LYRICS:

I don't like the things that you say
But I need somebody to show me the way
I've been living alone
While you've been up to no good
But I can't take anymore
I don't think I should baby

I don't know, I don't know
Let's push it

I've been living alone
While you've been up to no good
Let's push it baby
I've been living alone
While you've been up to no good
Let's push it

I don't know what you've come to do
I don't know what you've come to do
Let's push it
Let's push it baby
I don't know what you've come to do
I don't know what you've come to do
Let's push it
Let's push push push oh

I don't like the things that you say
But I need somebody to show me the way
I've been living alone
While you've been up to no good
But I won't take anymore
I don't think I should

But it's alright
I'll just hold tight
This is my night
Gonna do what I feel

I don't know what you've come to do
I don't know what you've come to do
Let's push it
Let's push it baby
I don't know what you've come to do
I don't know what you've come to do
Let's push it
Let's push push push push

I don't know, I don't know
Let's push it

I've been watching you for so long
Baby what I'm thinking it might just be wrong
The things I'm doing to you
They're all inside of my head
But I can't take anymore
Get into my bed

But it's high time, you should be mine
Got to do what you do you should feel

I don't know what you've come to do
I don't know what you've come to do
Let's push it
Let's push it baby
I don't know what you've come to do
I don't know what you've come to do
Let's push it
Let's push push push push

I don't know, I don't know
Let's push it


INFORMATION:
x appears on:
Nightcrawlers - Should I Ever (Fall In Love) (1995) CD-S
Nightcrawlers - Let's Push It (Motiv 8 Remixes) (1995) 12'' promo
Nightcrawlers - The 12" Mixes (1996) CD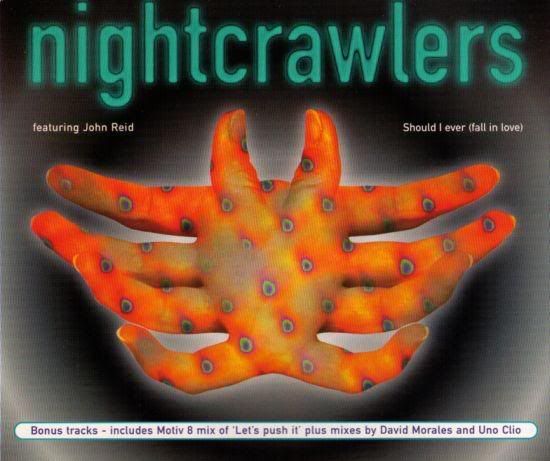 x Motiv8 mixes:
Let's Push It (Motiv-8 Nu-Matic Dub)
Let's Push It (Motiv-8 Bump 'N' Boost Vocal)
x Written by John Reid/R. Wilson/Stepz/M. McEvoy.
EMI Virgin Music Ltd/First Avenue Music Ltd/Sony Music Publishing.
Vocal production by John Reid.
Mixed by Motiv8.
Additional production by Steve Rodway for Nuff Respect Productions.
Special production and programming assistance by Higgo and Matt Gray.
x Nightcrawlers is a house music project assembled by producer, DJ and vocalist John Reid, who has penned songs for Westlife, Tina Turner, Rod Stewart and Kelly Clarkson.