LYRICS:

I'm searching for the golden eye

There once was a time
When I relied on you
A feeling of pain
Too good to be truth

Now I realize
I've seen deception before
My faith in you has been betrayed
And I can't take no more

I'm searching for the golden eye
And I'm running out of time
I'm trying to find the answers
Through so many years of lies
I'm searching for the golden eye
'Cause the world is on the line
I'm walking on a tightrope
Over a hundred stores high

I'm gonna hunt you down
I've got you in my sight
There's nowhere to hide
No escape from the fly

Now there's no turning back
No place you can go
Don't ask me for a load of lies
You've nothing left to go

I'm searching for the golden eye
And I'm running out of time
I'm trying to find the answers
Through so many years of lies
I'm searching for the golden eye
'Cause the world is on the line
I'm walking on a tightrope
Over a hundred stores high

I'm searching for the golden eye
I just can't find, no

I'm searching for the golden eye
And I'm running out of time
I'm trying to find the answers
Through so many years of lies
I'm searching for the golden eye
'Cause the world is on the line
I'm walking on a tightrope
Over a hundred stores high


INFORMATION:
x appears on:
Searching For The Golden Eye (1995) CD-S, 12''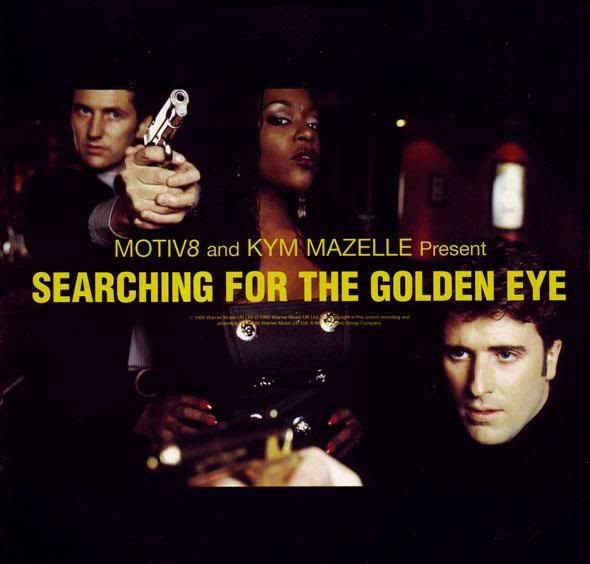 x Composed by Steve Rodway/ Brian Higgins/ Richard Pierce.
Licensed by Gema.
Produced by Steve Rodway for Nuff Respect Productions.
All mixed and arranged by Motiv8.
Special production assistance by Higgo

x "Searching For The Golden Eye" was submitted to be the theme song for the James Bond movie GoldenEye.

x Brian Higgins is pictured on the single cover (on the right).

REVIEWS:
x This is a great song which unfortunately was not used in the 1995 James Bond film Goldeneye, even though it was written for it. It is very upbeat with tremendous vocals by Kym Mazelle - a full vibrant black voice that does well an unmistakable underscoring of the James Bond theme. (...)
This single has 5 different versions of Searching For The Goldeneye: 1 Motiv8 Airplay Mix - is the standard radio version and is very atmospheric with its heavy Bond Theme underscoring; 2 Motiv8 Moneypenny Mix - is a longer arrangement with a great intro but some unfortunate dub mixing added into it, it remains immensely listenable and still features the underscoring; The O.P.M. Mix - is unfortunately not a very good mix with too much reliance on messing about with vocals and not enough attention paid to instrumental arrangement; 4 The Sharp Dub - bares no resemblance to the theme track at all and is repetitive and very weak; 5 Motiv8 Spectral Dub - is an interesting alternative long version with much better intrumentation using synths & rhythm, it does meander a little in the middle but is a fair alternative version (sadly lacking the Bond Theme underscoring though). J. C. Howells

LINKS:
x videos of "Searching For The Golden Eye" being played in clubs: 1, 2, 3
x "Searching For The Golden Eye" performed live by Kym Mazelle.