LYRICS:

Take it away, boys!

Put your tongue in my ear
It's queer but kinda fun
We're the tomorrow generation
There's much to be done
So, madam fashion, darling
Step this way
The modern girl's delighted to
Be risqu�

Here we go
We're gonna rock 'n' roll 'till we stop
(And then we'll drop)
It's a squeeze
But if you just say please
Then that's fine
(It'll be sublime)
The bass line cuts deeper
Than the sharpest stiletto
So one, two, three, now baby
Here we go

Here we go, here we go
I'm you sugar-coated doll and
You're my romeo
Here we go, here we go
Geek or unique, hell
Get on with the show
Here we go, here we go
I'm your sugar-coated doll,
You�re my hero
Here we go, here we go,
Here we go

Sugar, give me your face
And place it next to mine
'Cos darling, grease is the word
And boy, the word's divine
I don't do sex, but I do do
Second base
So I suggest you wipe that frown
From your off your face

Here we go
We're gonna rock 'n' roll 'till we stop
(And then we'll drop)
It's a squeeze
But if you just say please
Then that's fine
(It'll be sublime)
The bass line cuts deeper
Than the sharpest stiletto
So one, two, three, now baby
Here we go

Here we go, here we go
I'm you sugar-coated doll and
You're my romeo
Here we go, here we go
Geek or unique, hell
Get on with the show
Here we go, here we go
I'm your sugar-coated doll,
You�re my hero
Here we go, here we go,
Here we go-go-go-go-go
Go

INFORMATION:
x appears on:
Lene - Play With Me (2003) CD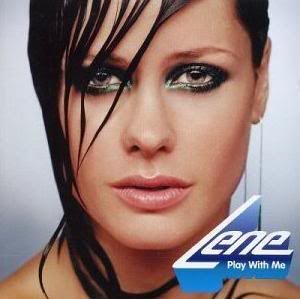 x Written by Miranda Cooper, Brian Higgins, Matt Gray & Lene.
Published by Warner Chappell/ Xenomania Music/ Little Devil Publishing Ltd.
Produced by Brian Higgins, Matt Gray & Xenomania.
Mixed by Ash Howes.
Musicians: Brian Higgins, Matt Gray, Tim Powell, Owen Parker, Greg Bone & Nick Coler.
x "Here We Go" was originally recorded by Moonbaby (a.k.a. Miranda Cooper). It was first covered by Lene and later by Girls Aloud.

x Lene is included on the writing credits of the song, despite the fact that her name doesn't appear on the original Moonbaby credits (which listed Moonbaby, Brian Higgins and Matt Gray). Her name was also missing when Girls Aloud released "Here We Go" on their second album. The lyrics remain the same on those three versions.