LYRICS:

Did you see me coming?
Was I that obvious?
For all of a sudden
There were just two of us

You don't have be in "Who's Who"
To know what's what
You don't have to be a high-flyer
To catch your slot
The night we met was cold and wet
I needed a drink or two
I saw you standing there and I knew
I'd love to be loved by you

Did you see me coming?
Was I that obvious?
For all of a sudden
There were just two of us

You don't have to be what's what
To know who's who
You don't need the DNA to find the proof
Then and there my life made sense
You were the evidence

Did you see me coming?
Was I that obvious?
For all of a sudden
There were just two of us
Did you see me coming?
I thought I'd have to make
All of the running
I was all yours to take

Am I superstitious or really religious
Just "to thyself be true"
But now I think I'm starting to believe in fate
Because it delivered you

Did you see me coming?
Was I that obvious?
For all of a sudden
There were just two of us
Did you see me coming?
I thought I'd have to make
All of the running
I was all yours to take


INFORMATION:

Available on:
x Pet Shop Boys - Yes (2009) CD
x Pet Shop Boys - Did You See Me Coming? (2009) CD-S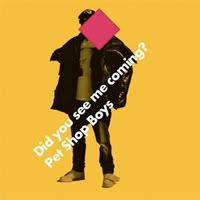 Credits:
Written by Neil Tennant and Chris Lowe.
Produced by Brian Higgins/Xenomania.
Mixed by Jeremey Wheatley.
Keyboards & programming: Chris Lowe, Neil Tennant, Pete Gleadall, Tim Powell, Nick Coler, Brian Higgins.
Guitars: Johnny Marr, Owen Parker, Nick Coler.
Mastered by Dick Beetham at 360 Mastering, London.
Published by Cage Music Ltd/Sony ATV.

Notes
x "Did You See Me Coming?" is be the second single from Yes, to be released on 1st June.
x It was the first song that the Pet Shop Boys played to Brian Higgins after meeting him. Chris Lowe told Planet Sound: "We had to play them a new song. We chose Did You See Me Coming, and Brian said 'Oh, that's 80% there.' The other 20% was it needed more welly."
x Neil Tennant: "My mother used to say: 'They must have seen you coming,' and it meant you were being hoodwinked or something. It's about a guy realising that the girl has seen him across the crowded room and realised that he's just going to fall in love with her immediately. It's a bit Cole Porter. It was actually the first song we wrote for this album and we realised then that the direction was going very poppy with very chirpy, happy harmonies."


REVIEWS
x For their most recent record, Yes, the duo drafted in Girls Aloud producers Xenomania to help them craft an all-out upbeat pop record. 'Did You See Me Coming?', the album's second single, is a neat illustration of its sound.
A light, no-strings-attached love song, it finds Neil Tennant delivering an unambiguous and heartwarming message over toe-tapping disco beats. "Did you see me coming, was I that obvious?" he sings joyously, "For all of a sudden, there was just the two of us." It might lack the infectious hook of 'Love etc.', but this is still a welcome offering in a renaissance year for the boys. 3/5 Digital Spy
x Ah, now this is much more like it. No messing around, straight into a killer chorus and nearly no let up from there. Sure, the lyrics are a bit naff, but in stark contrast to the limp but tricky "Love, etc." this is a gorgeous cocktail disco stomp to rival some of Very's giddiest pinnacles. If your idea of a good song is one that would sound good just on an acoustic, this might simultaneously be their best since "Miracles" and their most joyous since "I Wouldn't Normally Do This Kind Of Thing". 8/10 Edward Okulicz
x The Boys have become such master songwriters that few "real" bands can cobble together a sun-kissed guitar groove as buoyant as this, by far the catchiest song on the lackluster Yes. It's a nice companion to "I Wouldn't Normally Do This Kind of Thing" - unfortunately, that was from 1993. Although the evolution of Neil Tennant into a well-adjusted man who's not above ordering one drink too many and flashing some pink speaks well to the continued aesthetic health of fiftysomething pop stars, this feels rote, even unnecessary. Impossible to dislike, difficult to remember an hour later. 7/10 Alfred Soto
x I liked the Xenomania kick 8 seconds in, but that's about it - the song rapidly becomes a languid, plodding, in-the-style-of-Copacabana mess. 4/10 Andrew Brennan
x Talking about being pop as something worth aspiring to rather than reluctantly falling into is positive and all, and Pet Shop Boys have been particularly good at it this campaign. Acknowledging the high value of good pop is also to acknowledge that not just anyone can do it, though. PSBs were clearly once that not just anyone, but their best moments of recent years have all been at least one step removed and as such it's no surprise that, in pushing for their pure pop ideal, "Did You See Me Coming?" feels needlesly hamstrung by its directness rather than strengthened by it. Kind of sweet, though. 5/10 Iain Forrester
x Destined to rub up in their back catalogue against the similarly innuendo-ripe So Hard, Rent and Love Comes Quickly, is a joyous reminder that Neil Tennant is one of the few middle-aged men still able to tap into the inner teenager at the heart of great pop. BBC Music
x We're not totally in hi-NRG territory yet, but Chris has done a sterling job keeping his fingers off the space disco buttons thus far only to start falling brilliantly off that particular wagon on this inordinately sweet affair that casts Neil as perhaps a tad naive in the world of woo but a dogged and winningly puppyish pursuer regardless, not to mention a charmingly erudite one - let's not forget that this is the man that snuck "disinclined" into a Girls Aloud chorus, and he's on repeatedly engaging form here. The Quietus